Museum Hours
We are again open for the Holiday Season through January 6, 2024 on 
Wednesdays-Sundays from 10 am-4 pm.

Bonus days we're open:
December 21 from 10 am-7 pm
Christmas Day from 1-4 pm
December 26 from 10 am-4 pm
January 1 from 10 am-4 pm
If you'd be interested in volunteering on a project (all skill levels welcome!), please call Dave Naples directly at 970-281-9094.
Admission
$10 Adults 17+ years
$4 Kids 5-16 years
FREE under 5 years
$7 Seniors/Military (with ID)
(includes model railroad displays)
* Admission prices vary for special event weekends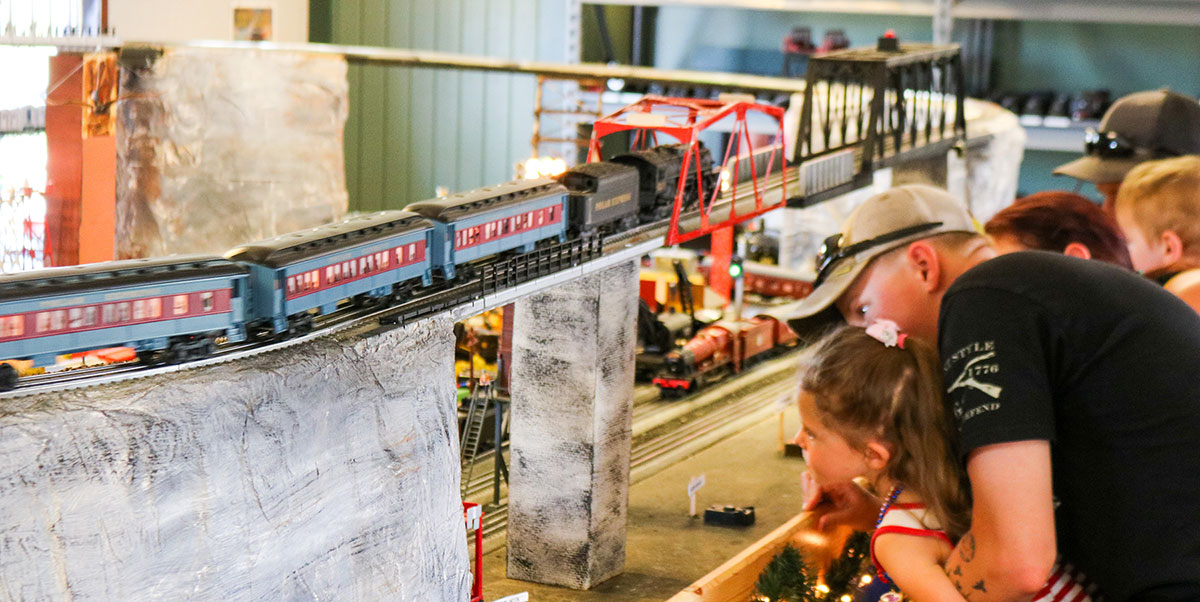 Find the Moffat Road Railroad Museum
The Moffat Road Railroad Museum is located just off Hwy 40, west of Kaibab Park ball field & playground. Turn off Hwy 40 onto Park Lane between Granby Fire Department and the bridge, across from Edgewater. See the Google map below.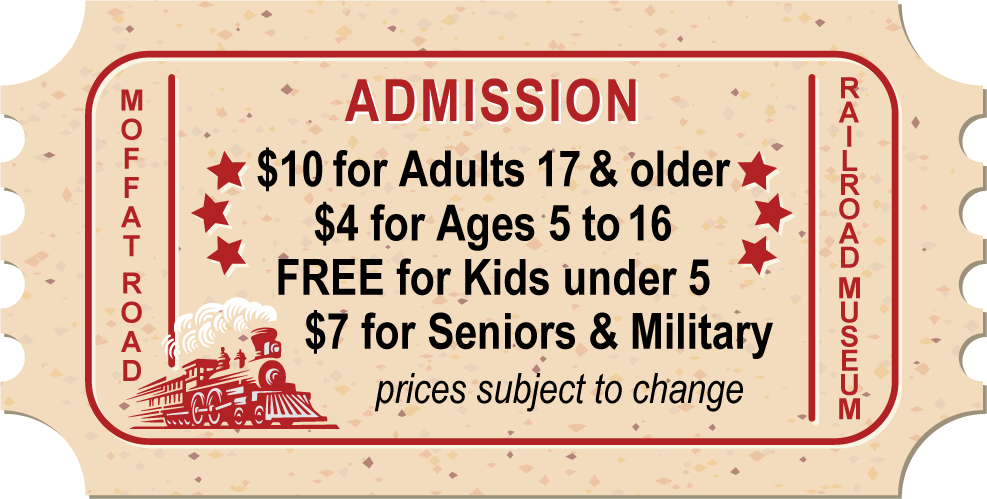 What Discoveries Await at Our Museum
The Moffat Road Railroad Museum, located in Granby, Colorado, is as much fun as it is educational for the whole family!
Currently featuring Colorado's largest permanent Christmas train display, the 1,100 sq. ft. O scale model railroad layout includes 6 running trains at once, tunnels, water, bridges, auto roadway, and a huge ski mountain with 2 chairlifts.
The Interpretive Center includes 8 different pieces of railroad equipment in various stages of restoration.

The Visitor Center has artifacts to take you back to the old Moffat Road railroad times, plus the gift shop has handcrafted local artisan items and kids' toys available.

Come see the progress of the HO scale Moffat railroad model train layout being built in the Exhibit Hall! It will be a replica starting from the east portal of the Moffat Tunnel all the way to Craig, CO.
Great entertainment for families as well as railroad enthusiasts!
Won't you consider choosing Moffat Road Railroad Museum to donate to this Colorado Gives Day?
Colorado Gives Day, December 5, is the biggest 24-hour giving movement in the state and one of the most successful giving days in the nation.
We know you have plenty of choices of nonprofits in Colorado, and Grand County specifically, to choose from, and we would love your consideration.
We value your support of our efforts to save Moffat railroad history, and would greatly appreciate any amount that you are able to gift to us. And thank you in advance!
You don't have to wait til Dec 5 to make your donation for CO Gives. You can donate today!
#GrandCountyGives #ColoradoGivesDay #MoffatMuseum #savingrailroadhistory #DumontDepot

2023 Holiday Season Events
This December, we will not just have one special event, but three! We hope some are of interest to you and your family and we'll see you there.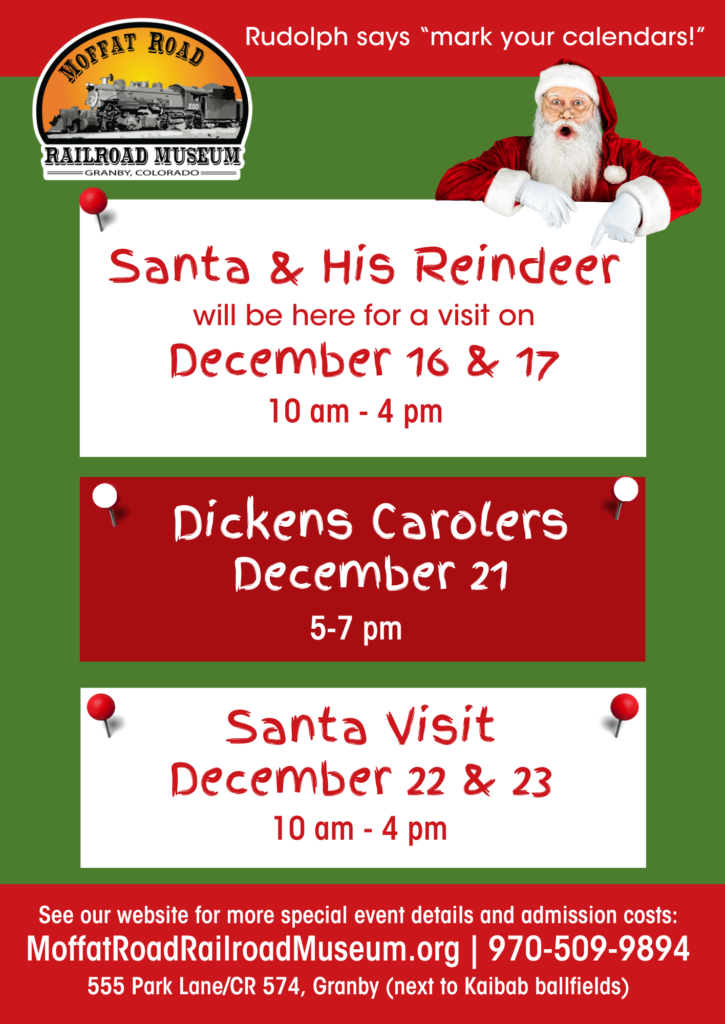 The 1902 Depot has been successfully moved to our museum in Granby!!
We had a bit of a delay, but we are pleased to report hat the Dumont Depot was transported to our museum on Oct. 17.
Our Depot Fundraiser has kicked off! Help us move and restore the 120-year-old train depot that will become our Family Train Ride Ticket Window and Community Event Center at our Museum. 
For questions, please call Executive Director, Dave Naples, at 970-281-9094.
Museum Announced as 2023 Best Museum!
We are very proud to be the recipient of the Sky-Hi News' 2023 Best of Grand Museum Winner and Family Entertainment Finalist! It was quite the shin-dig last night at Sun Outdoors.
We were pleased to pick up the same awards as last year. But we couldn't have done it without some help. Thank you to everyone who voted for our museum – your support means a lot to us!
And we'd also like to congratulate all the other award recipients. We think the businesses and nonprofits in Grand are amazing, and like to see folks supporting "shop local".
We have our Haunted Halloween event coming up and then we will be re-opening the museum for the Holiday Season on Nov. 24. We hope those of you who haven't been to our museum before will feel inspired to come check us out!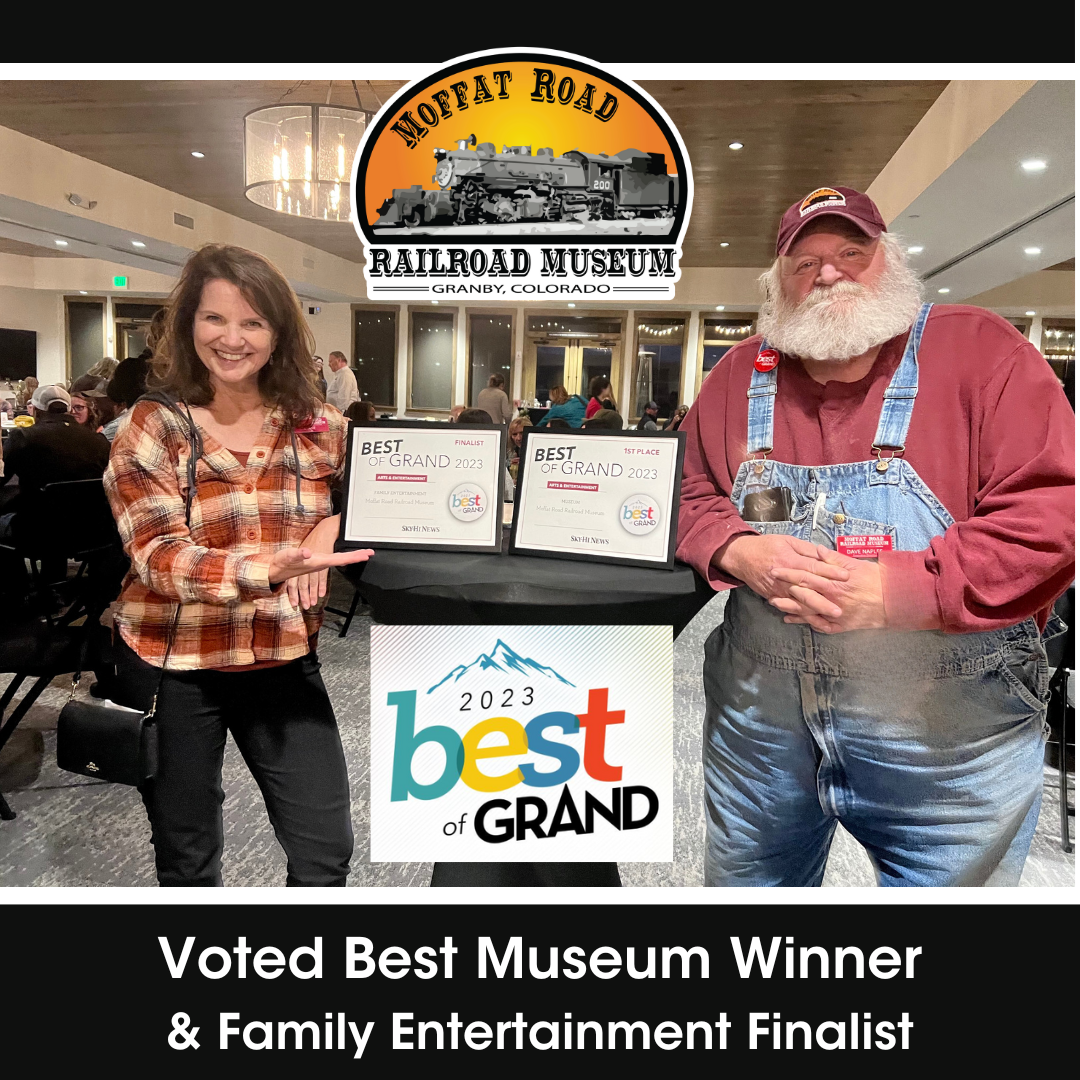 9 News Denver:
Colorado train museum expanding after record business
Volunteers Needed
Volunteers are needed to work on the new Moffat Railroad layout! Interested in working on this exciting project?
We are building the HO scale Moffat railroad model train layout, which will be a replica starting from the east portal of the Moffat Tunnel all the way to Craig. We are looking for some volunteers to help us out. There are multiple skill sets needed – electrician, carpenters, artists, model builders, etc. Whether you have any specific skills or not, we'd welcome anyone who would like to join us.

If interested, call Dave Naples at 970-281-9094.
Our Mission
To provide visitors significant opportunities to learn about and
experience the history of the Moffat Road Railroad
in Grand County, Colorado.
Visitor Center & Gift Shop
There are countless artifacts from the railroad days on display, an interactive locomotive so that you and your kids can see how the train runs, and a delightful gift shop with BRIO & Lionel train sets too.
Model Railroad Display
Experience the magic of Christmas and model trains! Our snow-covered Christmas model railroad layout is on display and you can explore countless fun features. It's over 1,100 square feet!
Interpretive Center
We wouldn't be an official museum without these amazing railroad exhibits that are at various stages of restoration! Tour our fully-renovated 1923 UP Caboose completed this spring, plus more.
Family Train Ride
Coming Soon! Our train, that can accommodate both children and adults, is currently being custom built. We hope to have it up and running for Summer 2024! Tickets will be available for purchase inside the Visitor Center for $4 per person. 
Stay tuned for more info about the new family train ride!