THEN: The Caboose Arrives at the Museum
THEN: Inside the Caboose before Restoration
NOW: Inside the 1923 Caboose
1923 CA-1 Class Caboose
The full restoration of this wooden CA-1 Class caboose was completed in May 2021. In addition, over 100 curated items fill the caboose to help visitors "step back in time" to picture what it was like to be either a brakeman or conductor.
About the Caboose
We have had the Caboose for 9 years and have made progress especially in the last 2 years. The pot belly stove is a large caboose stove donated by Chuck and Barbara Houck. The Caboose came 70% complete but only 15% integrity. We needed to rebuild most of the framing and almost all of the siding. The interior was totally restored.
This caboose was built by the Mt. Vernon Car Company in May of 1923 with the original number of 2655-renovated in December of '63 and retired in September of '67. It is only one of 175 made from 1913 to 1924. Very few are left. It was very rare to find an all wood caboose in as excellent condition as this one was and the caboose had not been modified.
Restoration Projects
If you would like to volunteer your time and/or donate to the projects, we would be very grateful. To allocate your donation to restoration projects, please mention "restoration projects" in the optional 'Write a note' section in the donation form.
Its Journey Here
On December 27th, 2010, the Moffat Road Railroad Museum received the 1923 Caboose as the first piece of railroad equipment for the Railroad Interpretive Park. This piece of equipment was a generous donation from the Lonie Bahr family in Falls City, Nebraska. The caboose arrived from Nebraska by truck and we used a crane to move it from the truck to it's final destination in the Interpretive Center Park. The caboose trucks were donated by the U.P. The U.P. was very generous and provided a truck and driver to bring the trucks (wheels) to us from Cheyenne and set them on the 40′ of rail that we laid recently and no charge! They also provided the 40 feet of rail – 25 ties and a bucket of spikes! Special thanks to the U.P.!!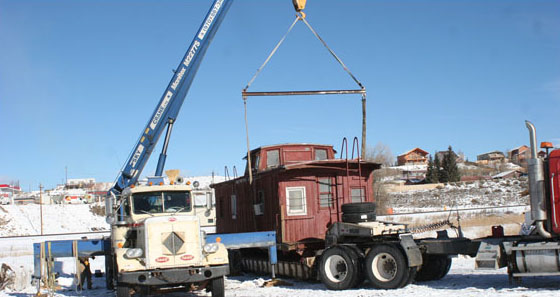 Family Train Ride
Coming Soon! Our train, that can accommodate both children and adults, is currently being custom built. We hope to have it up and running in 2023! Tickets will be available for purchase inside the Visitor Center for $4 per person. 
Stay tuned for more info about the new family train ride!