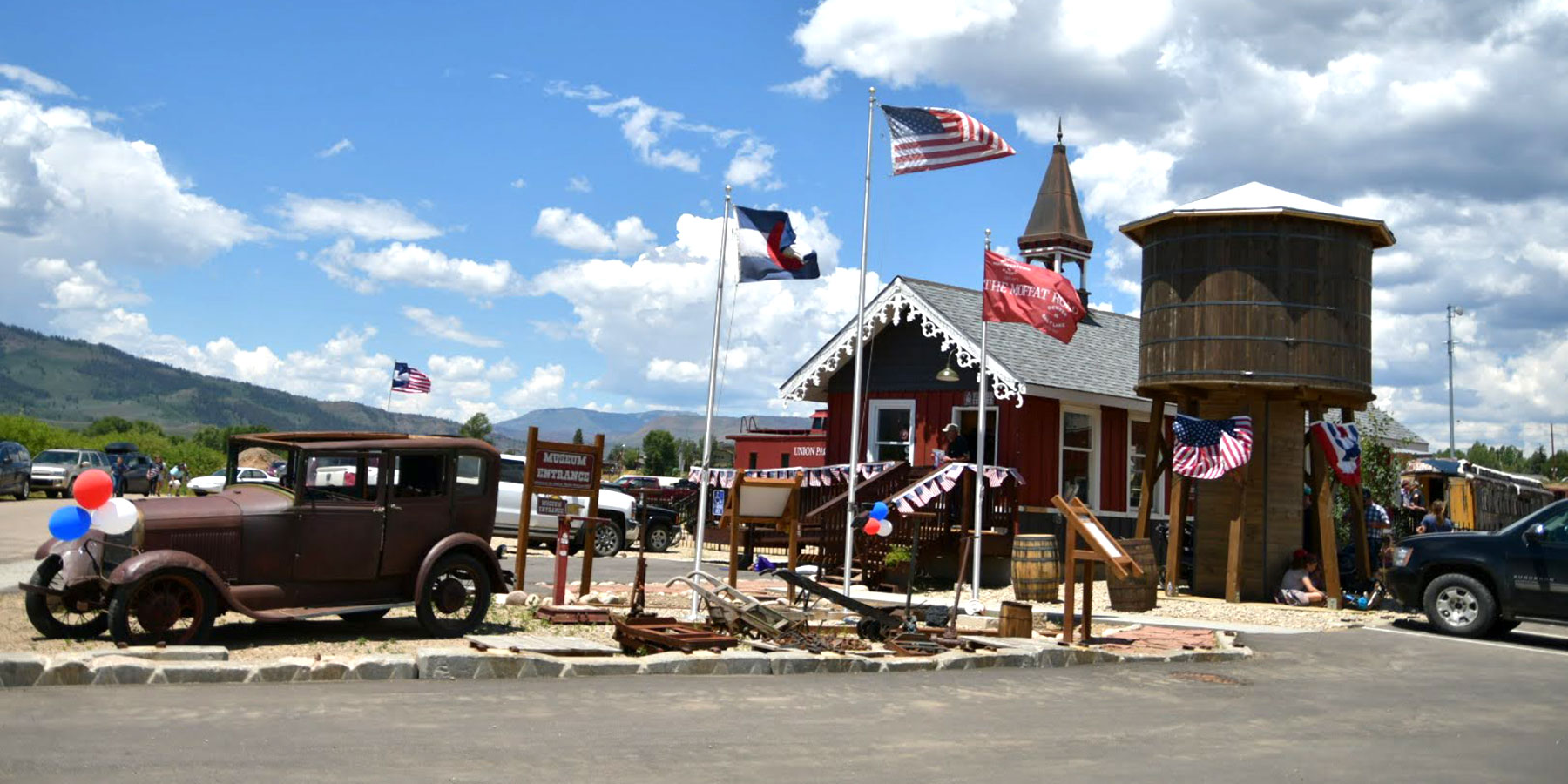 Upcoming Events at Moffat Road Railroad Museum
Stay tuned! Please check back here for future events' details and/or follow us for updates on Facebook: @MoffatRoadRailroadMuseum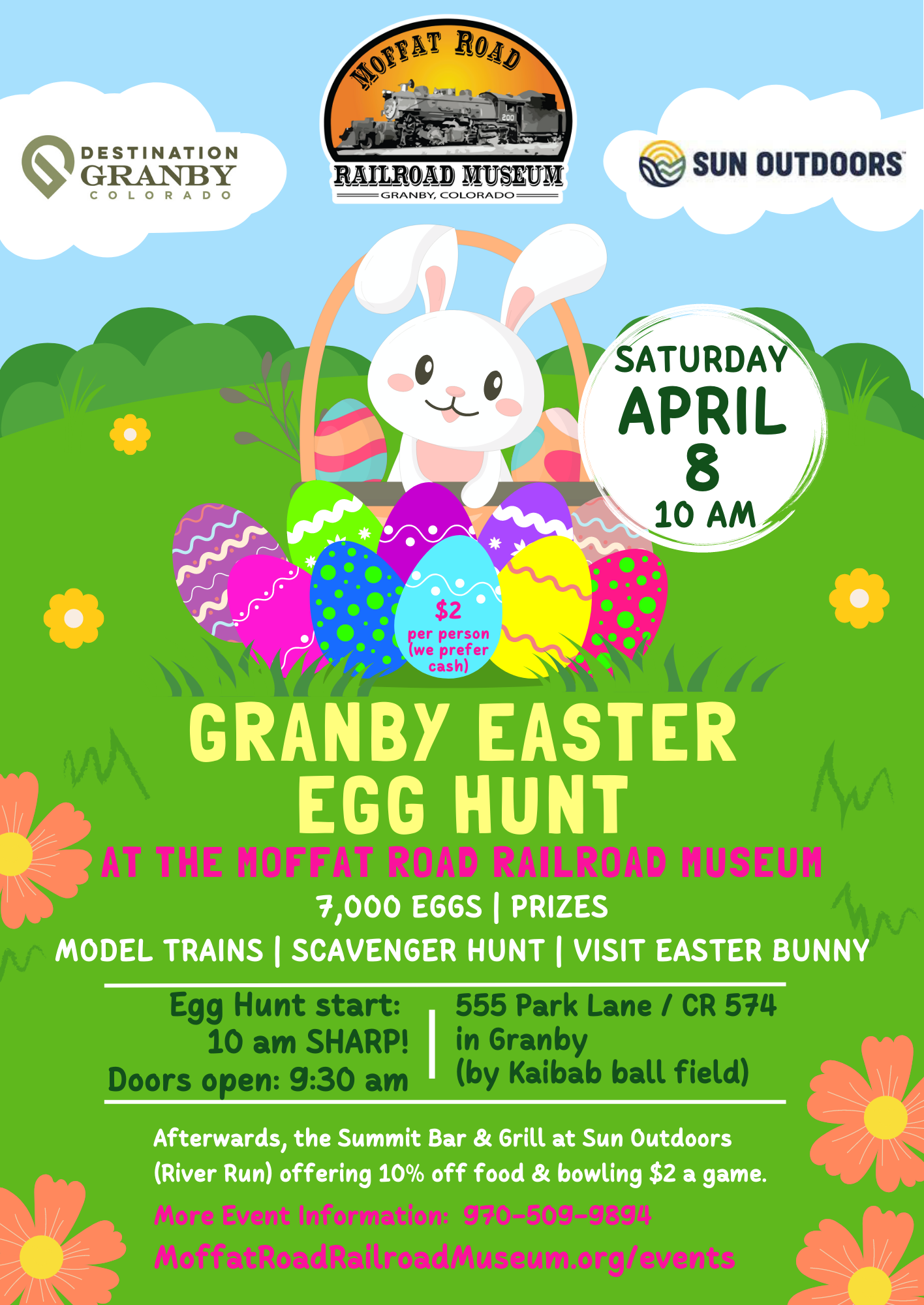 Santa & Reindeer Visited Us!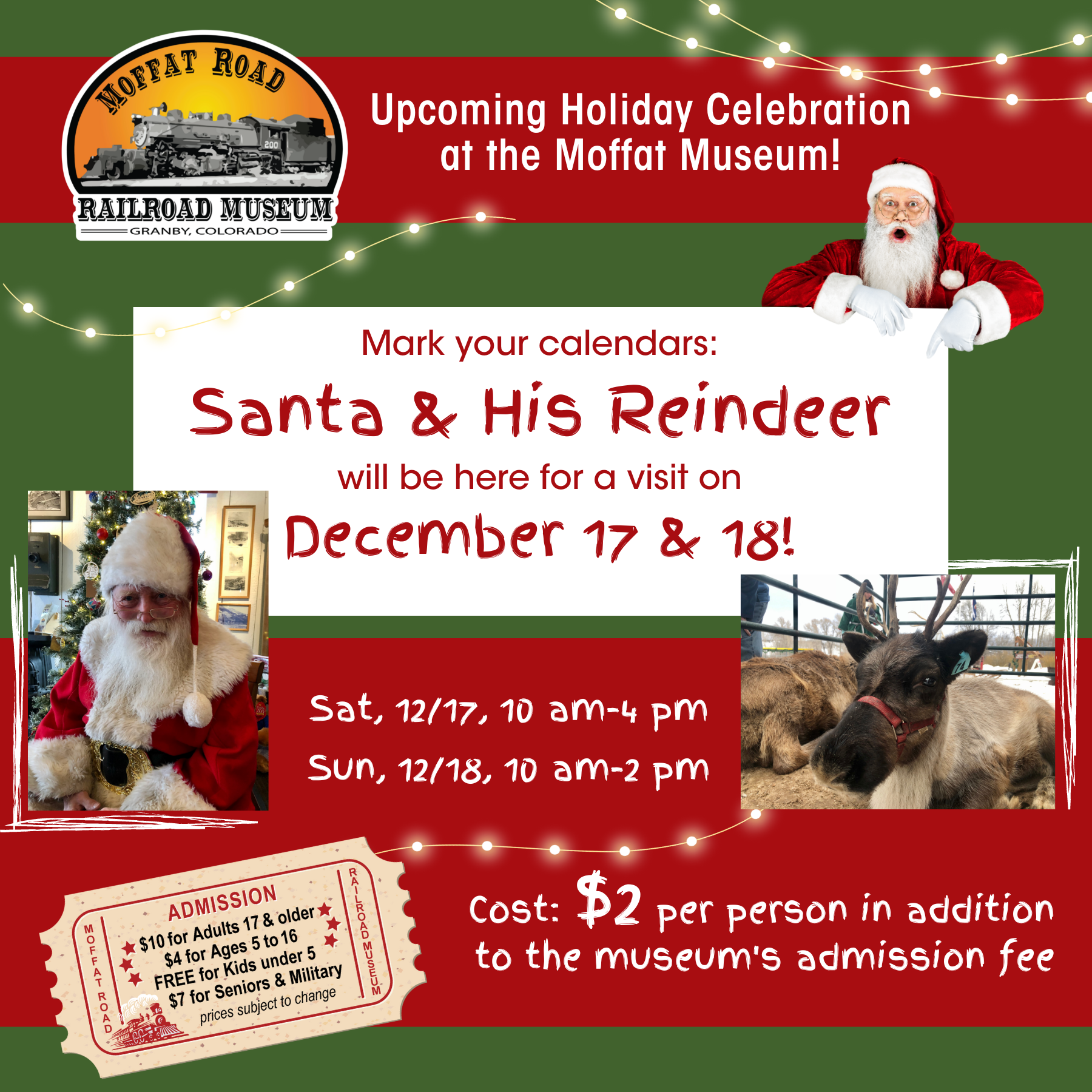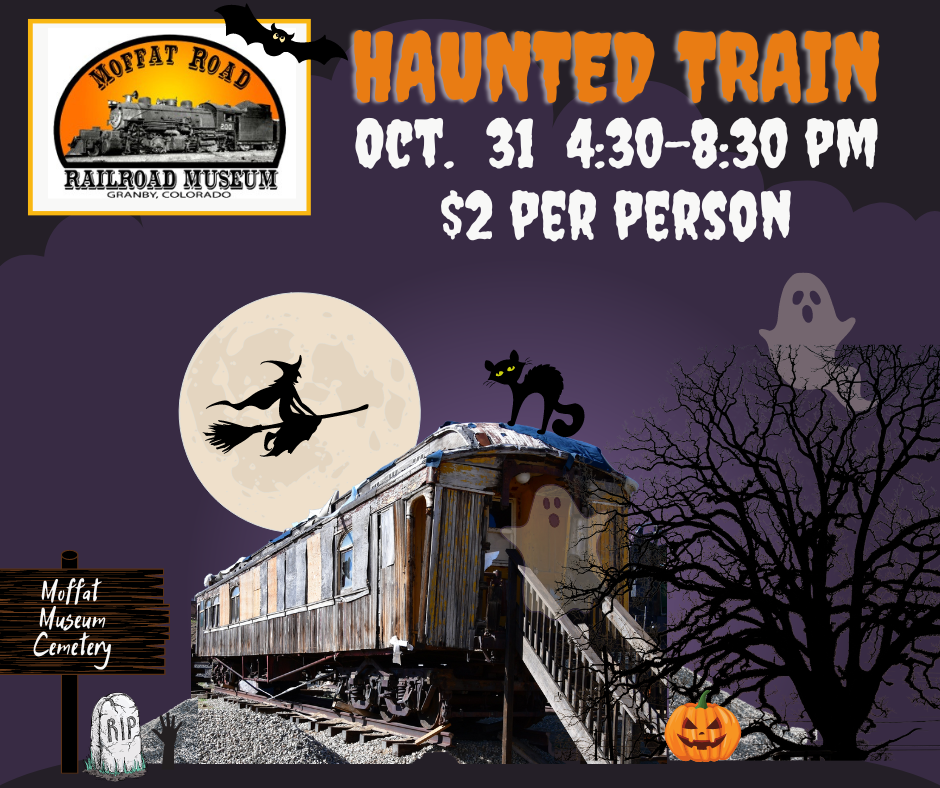 Fourth of July Celebration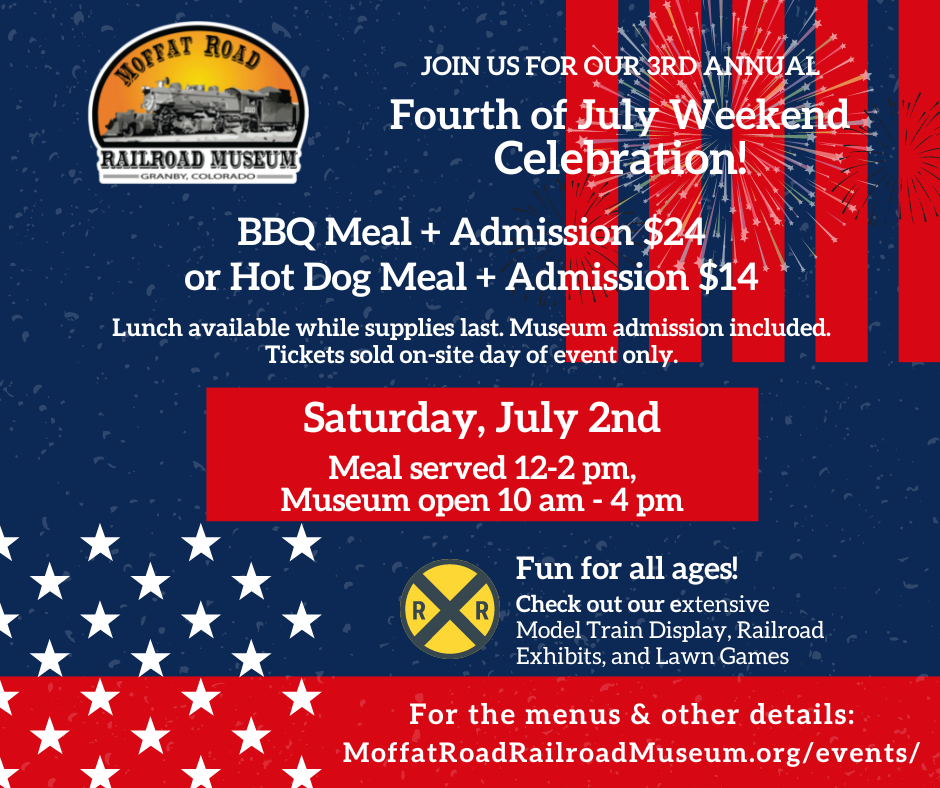 Hippity hoppity Easter's on its way! Make plans to bring your family to the Moffat museum on Saturday, April 16 for the egg hunt that will start at 10 am. Come see the Easter Bunny and admire the model trains for FREE! Then head over to River Run Resort for a lunch ($6/person) and live music. Great day for the whole family. And a special thanks to all the partners – we couldn't do this event without all of you!
Open for Spring Break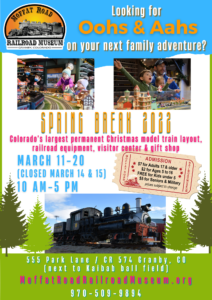 Although we are typically closed for the winter to work on restoration projects, we are OPEN for Spring Break: March 11-20 (except closed March 14 & 15) from 10 am-5 pm.
Open Presidents Day Weekend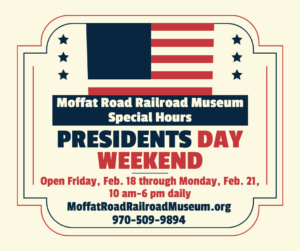 Good news! We will be open for special hours over Presidents Weekend (Feb 18-21, 2022 from 10 am-6 pm daily). 

Santa & His Reindeer Coming to Visit
Kids, mark your parents' calendars for December 18 & 19!
Saturday, December 18, 10 am-4 pm
Sunday, December 19, 1-5 pm
Cost: $5 per child to see Santa
We'll also have Holiday Train Storytime (read both in English & Spanish), Christmas Cookies & Milk, and Free, DIY Gift Wrapping Station for Gift Shop purchases!
Haunted Train for Halloween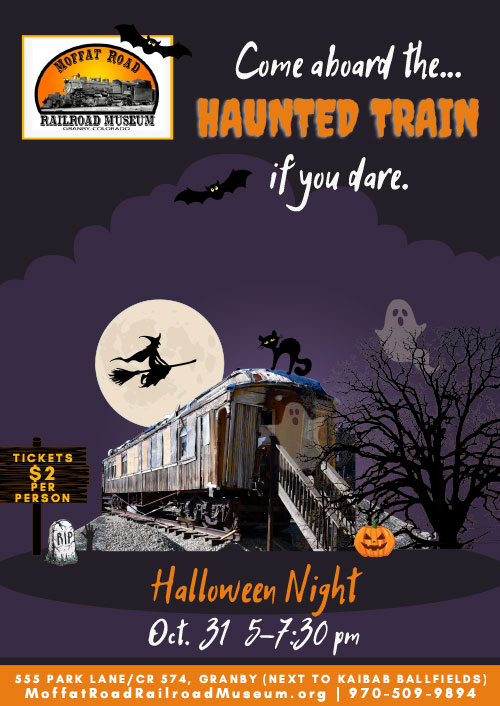 We had a blast-and-a-half spooking kids of all ages. We were surprised how many young ones got on board the train, and we quickly figured out how to downplay the scariness level when needed. Click the button below to view event photos and a short video and/or check out our Facebook page @MoffatRoadRailroadMuseum.
1922 Steam Locomotive Arrived October 8th!
The 1922 WestSide Lumber #8 3-truck Shay was relocated from the Royal Gorge Route Railroad in Canon City, CO to the museum's Interpretive Center! It was transported by truck to Granby and then a crane service assisted with positioning the locomotive onto the display track.
September 4th Crawfish Boil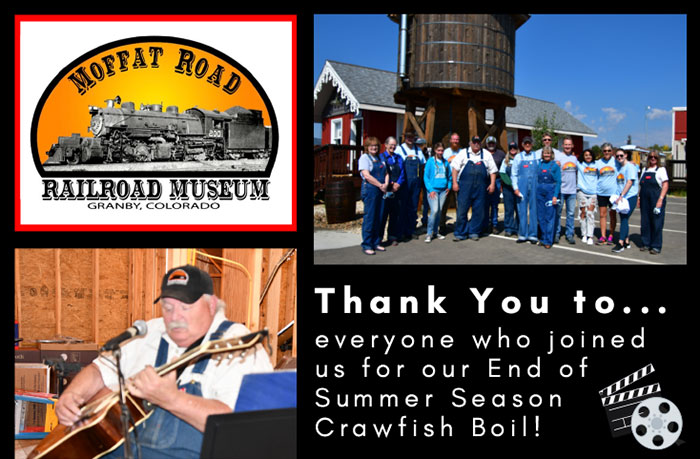 Thanks to those who joined us for our Louisiana-style Crawfish Boil on Saturday, September 4th, 2021. We hope everyone enjoyed the food, activities and music!
We couldn't have done it without the hard work and hustle of our staff, board and friends! We are very grateful to them and would like to thank everyone who helped.
And a special thanks to Fontenot's for providing the delicious food and Diane Ehlert with Elev8 Your Cause for being our event planner and marketer.
We hope to see everyone again this holiday season with your visiting family
and friends!
Check out the event photos below.
Event Photos – September 4th Crawfish Boil
Family Train Ride
Coming Soon! Our train, that can accommodate both children and adults, is currently being custom built. We hope to have it up and running in 2023! Tickets will be available for purchase inside the Visitor Center for $4 per person. 
Stay tuned for more info about the new family train ride!